Layouts
I want to show all the LO's I've been doing the last few weeks, but I probably will not be able to if I continue scrapping like I am! LOL! It's a good thing, I am certainly not complaining. And I'm not under any pressure from CT or anything. I am on 2 CTs - Miki Ferkul's and Diamante Designs. They are both very understanding of my time commitments due to work and family obligations. I'm so lucky to be a part of their CTs.
I did this LO just for me. I wanted to scrap with these beautiful pages by
Buddhini
. This is from her ScrapArtist Apprentice Challenge 1st round freebie kit, and seeing as she has reached the 3rd round(!!) today, I feel it appropriate to post them now. Congratulations, Buddhini! Knew you could do it.
All That Hair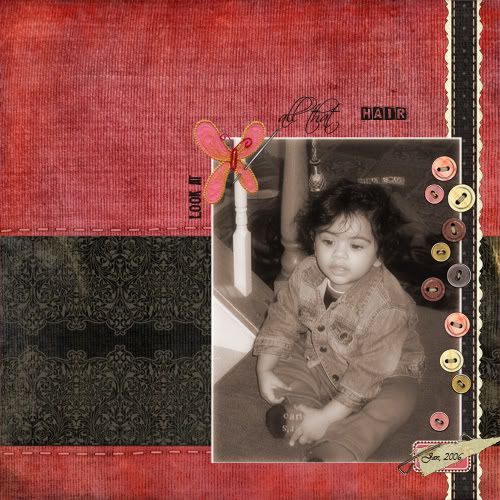 Credits:
Papers: Buddhini's Elegance kit
(Edited: I do know how to spell Elegance!)
Black Ribbon, stitching, buttons: Ztampf Syrin Seamstress
Needle, Pin: Ztampf
Pink Tag: Michelle Coleman's Tutti Frutti
Butterfly: Michelle Coleman's Gypsy Rose
Overlay on black paper: Jason Gaylor
Fonts: Misproject, Scriptina and Stamped DSG
Chocolate Dreams filter on photo by Diamante Designs.