London
Day Zero
We started our journey on October 10, 2008. Flight landed in London at 3PM on the 11th. We checked into the hotel and got a room that smelled of
something
. We felt the smell throughout the hotel but it was especially worse in this room. After 30 minutes we couldn't get used to the smell, and came down to the reception hall and found someone to talk about this. They changed our room and while talking we found out the hotel used to be open to smokers. We saw 'No Smoking' signs everywhere but that was fairly recent. They had made the hotel non-smoking but had not changed the carpeting anywhere. They were going to do so. The other room was better although in the hallways, the smell was present. We got used to it eventually.
We were near the High Street Kensington Metro station (London Metro=Tube), which is on circle (Yellow) line. The circle line goes in the center of London and touches all the major sightseeing in London.
London Tube Map here
Since it was evening already, we decided to just explore the nearby places on foot. We walked past the Hyde Park and walked all the way to Victoria & Albert Museum. There were many other museums we wanted to see but didn't have the time. London has so much to explore you can stay there for months and not have to see the same things twice. We only realistically had 4 days.
Hyde Park Gate
Old Style Telephone Booth
Royal Albert Hall
Hyde Park
I made the skirt I'm wearing. There is another one I made which will come up in other photos.
V&A museum closed at 5:30PM. The outside wall of the museum had been damaged in World War II and they have left it as is for memory.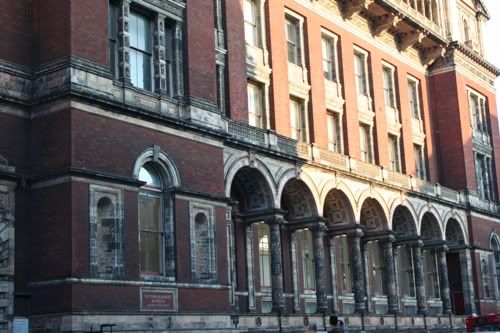 We wandered our way back to the hotel. While returning we saw this apartment building which had so many chimneys up on the roof. I found it really interesting :)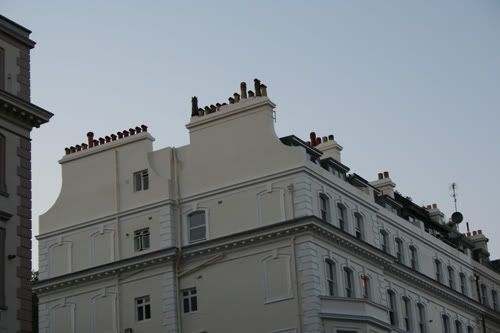 I thought of India as soon as I saw this shop as you always see fruits displayed outside like this there. It turned out to be an Indian grocery store. Hee
Mehul was loving the double-decker buses. We took him on a few rides later in the trip.