Summer is almost upon us and we're so ready for all the fun. Mehul will be going to summer camp and will have lots of fun activities. We're planning a lot of activities at home as well. We'll have to make a list of all the things we can do. I've got a nice pinboard
full of fun activities we could do
. Along with all the indoor crafty stuff we will be spending a lot of time outdoors. Mehul loves to ride his scooter and bike, Aanya loves her tricycle and playing ball. Oh what fun! I can hardly wait.
Mehul made a tin can robot this weekend for his teacher. I've go a picture but it's not online yet. The robot is just made from a soup can with its features hot-glued on and we found him a nice hat to wear. It has nuts for legs, copper wire arms and binder clips for ears! It can help store the little things on the teachers desk. Mehul will be giving it to his teacher this week as a thank you for an excellent year. It still needs a name.
Today he is presenting his 4th quarter project for school - which was on Sea Turtles. Lucky for him as he had came across a few sea turtles on the beach in Hawaii! I got a nice picture of them and it made a nice center photo on his trifold. He is so excited for the presentation.
Aanya turned two!! Time is going by too fast. When Mehul was two I was very into digital scrapbooking and that made recording all the little things so much easier and fun. This time around I just can't find the time for scrapping. I'm very much enjoying her and all her sweet little things she does. She dances to any song or tune, even ads on tv get her moving. She sings rhymes in tune even though words are not very clear. She just loves to talk. She gives us hugs and kisses -- lots of them. She is very possessive though, she doesn't want me picking up any other baby OR even hugging Mehul. It's such a fun age. I wish they stayed like this forever!!
Made a few teeny dresses for her birthday. Here she is running around the yard in her new dress.
The Good Deeds Dress
Pattern here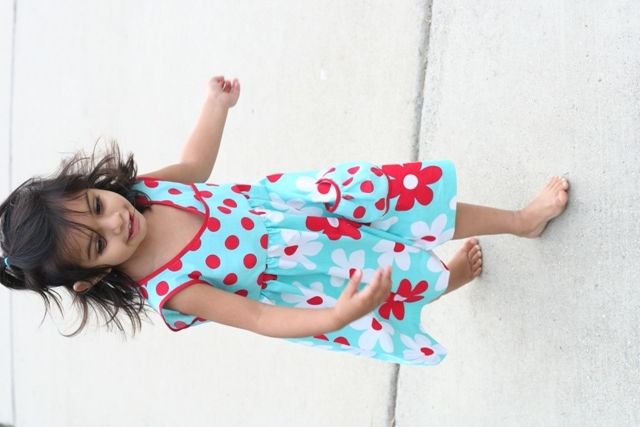 Another one made with same pattern
Birthday pic